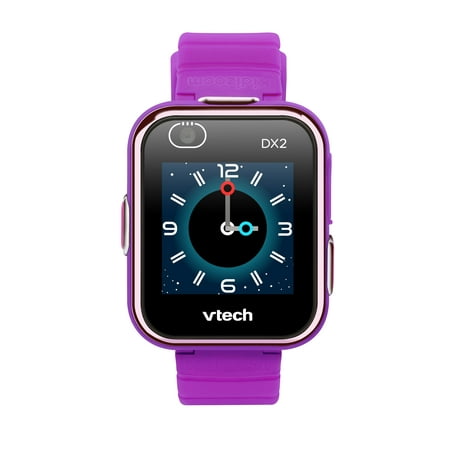 VTech® Kidizoom® Smartwatch DX2 - Purple
Information regarding the items are compared based on input acquired from article numbers and item keywords. Once you jump to the external online retail site, the actual item and conditions may be different. Once you jump to the external online retail site, please make sure to confirm the item and conditions. Please note that items that do not come up in the search results may be lower in price, and the list price may fluctuate.
Detailed information
Product description
The perfect tech for kids, Kidizoom® Smartwatch DX2 by VTech® lets them take pictures, videos, play games, tell time and more! Featuring a new sleek and stylish design, this durable smartwatch includes 55 digital and analog customizable watch faces to help kids learn to tell time. This smartwatch features two cameras that allow your child to capture everything from action video to selfies that can be customized in the Silly Yourself app and made into new watch faces. Includes an assortment of new games including Monster Catcher, which uses the camera and augmented reality to help kids find and capture monsters in the real world. Kids can also use the watch's motion sensor for active play challenges or to track steps. Using the included Micro-USB cable, upload photos and videos as well as recharge the battery. The Kidizoom® Smartwatch DX2 is a great multifunction watch like Mom & Dad's, designed just for kids!

Two cameras with photo effects
Video camera allows kids to capture videos anytime, anywhere
Digital and analog watch displays with 55+ watch face designs
Easy to use touch screenMotion sensor for active play challenges, a pedometer and fun sound effects
Splash proof for everyday play (Splash and sweat proof. Do not submerge and not suitable for showering or bathing).
Holds 1600 photos or 11 one-minute videos at 320x240 resolution
Rechargeable
WALMART.COM SM is a service mark of Wal-Mart.com USA, LLC and Wal-Mart Stores, Inc.
Search from sale information
Sale information at February 17, 2019, 7 am
Share Price-Funnel.com
"Price-Funnel.com" aspires to be a more user-friendly site. It would mean a lot to us if you can share our site from the share button below.
Could you please take some time to answer our site-improvement questionnaire?
"Price-Funnel.com" aspires to be a more user-friendly site. We would appreciate it if you can take the time to answer our questionnaire annonymously, as we value the input of our users.