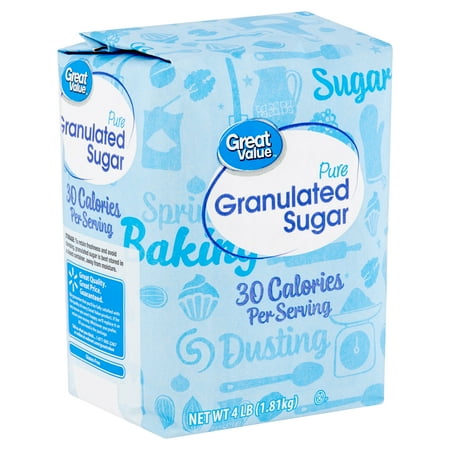 Great Value Pure Granulated Sugar, 4 lb
Information regarding the items are compared based on input acquired from article numbers and item keywords. Once you jump to the external online retail site, the actual item and conditions may be different. Once you jump to the external online retail site, please make sure to confirm the item and conditions. Please note that items that do not come up in the search results may be lower in price, and the list price may fluctuate.
Detailed information
Product description
Great Value Pure Granulated Sugar is nature's sweetener. This finely granulated, free-flowing, all-purpose sugar is a pantry essential. It is ideal for table use, baking, preserving, canning, and sweetening beverages. Naturally gluten-free and with only 30 calories per serving, it adds a wonderfully authentic sweet flavor to your food and drinks. When any recipe calls for this essential ingredient, be prepared with Great Value Pure Granulated Sugar.Great Value products provide families with affordable, high quality grocery and household consumable options. With our wide range of product categories spanning grocery and household consumables, we offer you a variety of products for your family's needs. Our products are conveniently available online and in Walmart stores nationwide, allowing you to stock up and save money at the same time.



Great Value Pure Cane Sugar, 4 lbs:

Naturally gluten-free food
Gluten-free sugar is granulated
Kosher baking sugar
4-lb bag
Use to sweeten your beverages
Use in your dessert baking such as cookies.
WALMART.COM SM is a service mark of Wal-Mart.com USA, LLC and Wal-Mart Stores, Inc.
Search from sale information
Sale information at April 23, 2019, 9 am
Share Price-Funnel.com
"Price-Funnel.com" aspires to be a more user-friendly site. It would mean a lot to us if you can share our site from the share button below.
Could you please take some time to answer our site-improvement questionnaire?
"Price-Funnel.com" aspires to be a more user-friendly site. We would appreciate it if you can take the time to answer our questionnaire annonymously, as we value the input of our users.