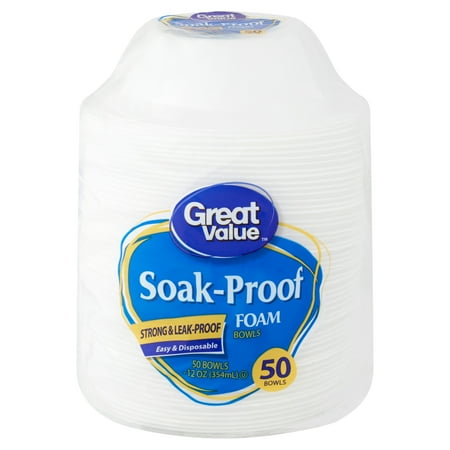 Great Value Soak-Proof Foam Bowls, 50 count
Information regarding the items are compared based on input acquired from article numbers and item keywords. Once you jump to the external online retail site, the actual item and conditions may be different. Once you jump to the external online retail site, please make sure to confirm the item and conditions. Please note that items that do not come up in the search results may be lower in price, and the list price may fluctuate.
Detailed information
Product description
Great Value Soak-Proof Foam Bowls are an essential for every household. Strong and leak proof, these bowls do the heavy lifting for soups, dips, sauces and more. Perfect for warm or cool liquids, these 12-ounce bowls allow you to enjoy your favorite saucey dishes without worry of leaks or spills onto clothing or furniture. These easy and disposable bowls make cleaning up after group meals a cinch. Be sure to stock up before your next chili cook off, pasta party, soup day, football game, or barbecue (baked beans, anyone?), and experience the joy of a 5-minute clean up after hosting! Lightweight, portable, and stackable, these bowls can be packed up for the family on-the-go, so you can have a clean, dependable, leak-proof vessel, wherever your adventures take you. Perfect for everyday use, Great Value Soak-Proof Foam Bowls are an easy and convenient choice for the entire family.Great Value products provide families with affordable, high quality grocery and household consumable options. With our wide range of product categories spanning grocery and household consumables, we offer you a variety of products for your family's needs. Our products are conveniently available online and in Walmart stores nationwide, allowing you to stock up and save money at the same time.
These Great Value Soak Proof 12 Ounce Foam Bowls are ideal for the office, parties or anywhere else that you need to cater to large groups of people. Using a Styrofoam bowl is also a great choice when feeding young children. These bowls help make cleanup easy, and these strong and leak-proof bowls will help you to avoid broken dishes in your home or office. These bowls are the ideal size for holding your favorite snack or for having a small bowl of your favorite soup or oatmeal. This pack contains 4 packs of 50 count disposable bowls.
WALMART.COM SM is a service mark of Wal-Mart.com USA, LLC and Wal-Mart Stores, Inc.
Search from sale information
Sale information at February 17, 2019, 8 am
Share Price-Funnel.com
"Price-Funnel.com" aspires to be a more user-friendly site. It would mean a lot to us if you can share our site from the share button below.
Could you please take some time to answer our site-improvement questionnaire?
"Price-Funnel.com" aspires to be a more user-friendly site. We would appreciate it if you can take the time to answer our questionnaire annonymously, as we value the input of our users.