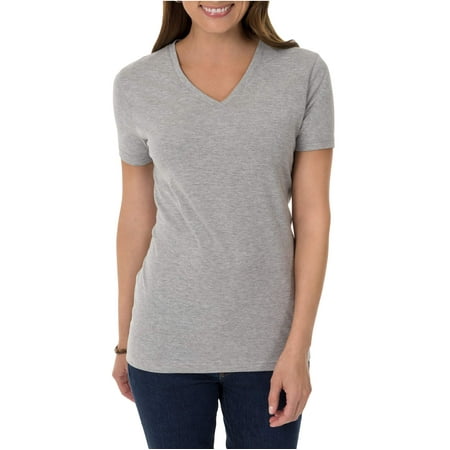 Time and Tru Women's Essential Short Sleeve V-Neck T-Shirt
Information regarding the items are compared based on input acquired from article numbers and item keywords. Once you jump to the external online retail site, the actual item and conditions may be different. Once you jump to the external online retail site, please make sure to confirm the item and conditions. Please note that items that do not come up in the search results may be lower in price, and the list price may fluctuate.
Detailed information
Product description
Every woman needs to have a simple, comfortable tee - or two, or three - which she can pair with a fancy pair of trousers, blazer and pumps for work. That same top should be able to transition into the night - for a casual dinner - by simply replacing the trouser with jeans or something just as casual. With Time and Tru's Women's Essential Short-Sleeve V-Neck Tee, you have a wardrobe staple that serves a dual purpose. This low-key fashionable tee is the perfect backdrop for layering, while the cotton-poly fabric blend has a flattering silhouette on a woman's body, a crucial element in women's tops. The attractive way the soft-hand-feel shirt drapes across your torso is one of its key elements, with the V-neck collar giving space for prettily showcasing a necklace. You can also pick up the two-shirt bundle option, available in various color combinations. Part of Walmart's EDLTC (Every Day Low True Cost), a program that was created to aid in Walmart's Sustainability Index, you can also feel at ease knowing that the production of this tee fully supports environmental and ecological sustainability. Time and Tru is a brand that is all about you. You're a teacher, you're a mom, and you're a beloved family member. You're busy taking on multiple roles at once. From packing lunches to nailing that work presentation, we want to dress the modern-day woman in a functional, seemingly effortless style that moves with her as she moves through her day. We want to manifest her inner fierceness through timeless pieces that complement her fearlessness no matter what she decides to take on. At Time and Tru, we celebrate everything about being you.
WALMART.COM SM is a service mark of Wal-Mart.com USA, LLC and Wal-Mart Stores, Inc.
Search from sale information
Sale information at February 21, 2019, 12 pm
Share Price-Funnel.com
"Price-Funnel.com" aspires to be a more user-friendly site. It would mean a lot to us if you can share our site from the share button below.
Could you please take some time to answer our site-improvement questionnaire?
"Price-Funnel.com" aspires to be a more user-friendly site. We would appreciate it if you can take the time to answer our questionnaire annonymously, as we value the input of our users.