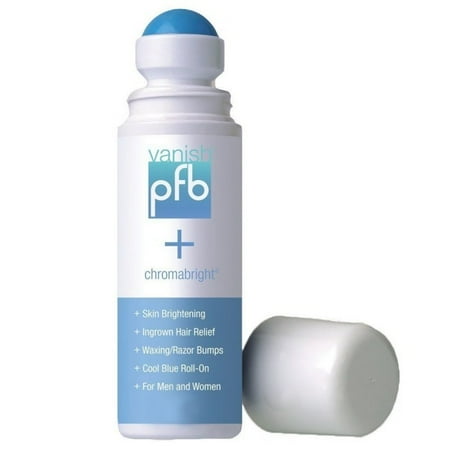 PFB Vanish + Chromabright, 3.3 Oz
Information regarding the items are compared based on input acquired from article numbers and item keywords. Once you jump to the external online retail site, the actual item and conditions may be different. Once you jump to the external online retail site, please make sure to confirm the item and conditions. Please note that items that do not come up in the search results may be lower in price, and the list price may fluctuate.
Detailed information
Product description
The first line of defense for ingrown hair and skin brightening is a unique cosmetically elegant roll-on serum such as this PFB Vanish + Chromabright. It contains the same ingredients as the original PFB Vanish, but with added Dimethylmethoxy Chromanyl Palmitate to lighten dark spots. PFB roll on Vanish with Chromabright is a post-inflammatory hyper pigmentation product which was able to inhibit tyrosinase activity by 37 percent. It is 45.9 percent more effective than Kojic acid and Hydroquinone. PFB Vanish + Chromabright comes in a 3.3-oz container that is small enough to take with you while on the go or on vacation. It is effective in treating dark spots that are caused by ingrown hairs, various types of bumps, razor burn and overall skin discoloration. Use it on your face, neck, legs and underarms and give yourself a smooth and healthy looking complexion that will have you ready for swimsuit season.



PFB Vanish + Chromabright, 3.3 oz:
Formulated to reduce the appearance of dark spots caused by ingrown hair, razor burn and bumps resulting from shaving, waxing, tweezing, electrolysis and laser removal.
PFB vanish with Chroma bright reduces skin discoloration
For use on face, neck, underarms and legs
PFB ingrown hair serum comes in 3.3-oz container
WALMART.COM SM is a service mark of Wal-Mart.com USA, LLC and Wal-Mart Stores, Inc.
Search from sale information
Sale information at March 22, 2019, 9 pm
Share Price-Funnel.com
"Price-Funnel.com" aspires to be a more user-friendly site. It would mean a lot to us if you can share our site from the share button below.
Could you please take some time to answer our site-improvement questionnaire?
"Price-Funnel.com" aspires to be a more user-friendly site. We would appreciate it if you can take the time to answer our questionnaire annonymously, as we value the input of our users.