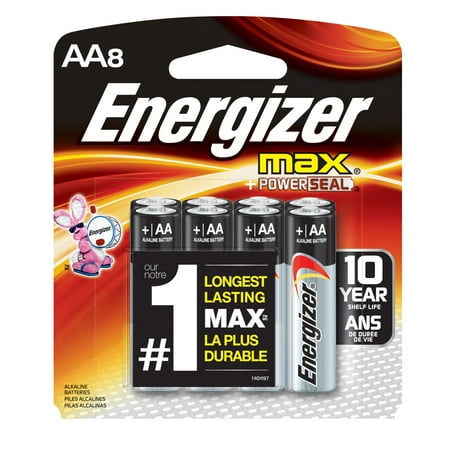 Energizer MAX Alkaline, AA Batteries, 8 Pack
Information regarding the items are compared based on input acquired from article numbers and item keywords. Once you jump to the external online retail site, the actual item and conditions may be different. Once you jump to the external online retail site, please make sure to confirm the item and conditions. Please note that items that do not come up in the search results may be lower in price, and the list price may fluctuate.
Detailed information
Product description
Energizer MAX AA Batteries, 8pk, now hold their power for 10 years* and are designed to protect from leakage better than the other leading battery for up to two years after fully used when left in low drain devices. The proprietary Power Seal Technology is assurance that you will have power you can rely on, whether you are capturing baby's first steps, competing in the final level of a video game or preparing for a storm on the horizon. A 10-year shelf life means that you can be confident you will always have power when you need it most. This is the world's first zero-mercury AA alkaline battery. It is designed to meet all of your battery needs. *Shelf life

8-pack of Energizer MAX alkaline AA batteries
Our #1 Longest Lasting MAX AA battery powers everyday devices
Leak resistance-construction protects your devices from leakage of fully used batteries for up to 2 years. Bonus: It's guaranteed.*
Power for your nonstop family's must-have devices like toys, flashlights, clocks, remotes, and moreHolds power up to 10 years in storage ;so you're never left powerless
From the makers of the #1 longest lasting AA battery (Energizer Ultimate Lithium), and the Energizer Bunny
Energizer created the world's first zero mercury alkaline battery (commercially available since 1991), and it hasn't stopped innovating since.
WALMART.COM SM is a service mark of Wal-Mart.com USA, LLC and Wal-Mart Stores, Inc.
Search from sale information
Sale information at April 25, 2019, 1 am
Share Price-Funnel.com
"Price-Funnel.com" aspires to be a more user-friendly site. It would mean a lot to us if you can share our site from the share button below.
Could you please take some time to answer our site-improvement questionnaire?
"Price-Funnel.com" aspires to be a more user-friendly site. We would appreciate it if you can take the time to answer our questionnaire annonymously, as we value the input of our users.