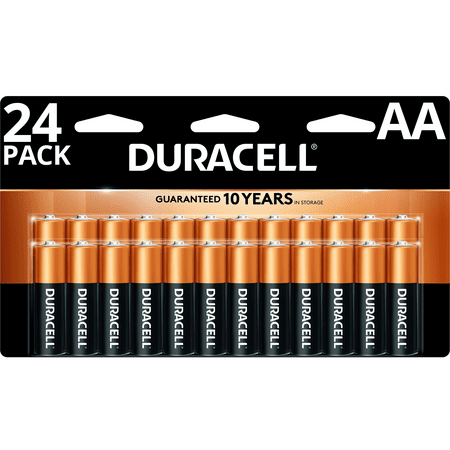 Duracell 1.5V Coppertop Alkaline AA Batteries 24 Pack
Information regarding the items are compared based on input acquired from article numbers and item keywords. Once you jump to the external online retail site, the actual item and conditions may be different. Once you jump to the external online retail site, please make sure to confirm the item and conditions. Please note that items that do not come up in the search results may be lower in price, and the list price may fluctuate.
Detailed information
Product description
Duracell Coppertop AA Household Batteries are built to power battery-operated toys, small appliances, remotes, flashlights and more. They're made without mercury and will last up to seven years. Engineered with Duralock Power Preserve Technology, these Duracell AA Household Batteries, 24 count, come with a 10-year storage guarantee. Keep them on hand at home, in the garage and in the car so you're always prepared for everyday needs and emergency situations. When it's time for disposal, look for responsible recycling options at many stores that sell Household Batteries and electronics.



Duracell 1.5V Coppertop Alkaline, AA Batteries, 24 Pack, Long-Lasting
#1 trusted battery brand*

24-pack of all-purpose AA Alkaline batteries

Alkaline batteries plus extra advanced Power Preserve technology

Guaranteed 10 years in storage

Guaranteed to protect your devices from damaging leaks**

Voltage: 1.5 Volts
Duracell Coppertop Alkaline AA batteries are available in packs of 4, 6, 8, 16, 20, 24

Duracell Coppertop batteries are available in AA, AAA, C, D, and 9V sizes
From the home to the car to your outdoor adventures, Duracell provides a variety of products to meet the personal power needs of our valued customers. Check out https://www.duracell.com/ for our full line of products, including multiple battery types and battery sizes, hearing aid batteries, rechargeable batteries and battery chargers, inverters and jumpstarters, auto batteries, marine batteries, solar landscape lighting, LED lighting, flashlights, keyless entry remotes, and more. Try Duracell Coppertop, Quantum, Rechargeable, Hearing Aid, Coin Button, and Specialty for all your battery needs.
Connect with us:
https://www.facebook.com/duracell/

https://www.instagram.com/duracell/

https://twitter.com/duracell

As part of our commitment to preserve the environment, we use only nontoxic inks in our packaging and the card portion of our package contains recycled material.
Tips for Battery Care and Use:
Duracell batteries are a reliable and important source of daily portable power. To ensure you get the most from your Duracell batteries, follow these general 'DO' and 'DON'T' tips for proper battery use and storage:
DO – Keep all batteries in a safe place away from children and pets, particularly the smaller sized batteries.
DON'T – Remove the battery label, or attempt to take the battery apart, or dispose of in a fire as this may lead to rupture and/or chemical burns.
DO – Store batteries, in their original packaging, in a dry place and at normal room temperature until ready to use.
DON'T – Attempt to recharge non-rechargeable batteries. This can cause your batteries to overheat or leak.
DO – Use the correct size and type of battery specified by the manufacturer of your device.
DON'T – Carry batteries loose in your pocket or purse as they may create a safety risk. They can be shorted by contact with metal objects and may leak, overheat or rupture.
DO – Replace all used batteries in your device at the same time. Insert batteries properly, with the plus (+) and minus (–) terminals aligned correctly. CAUTION: Some equipment using more than three batteries may appear to work properly even if one battery is inserted incorrectly.
DON'T – Mix old and new batteries, batteries of different brands, or batteries of different types (for example heavy duty zinc chloride batteries and alkaline batteries) in the same device as this may cause the batteries to leak.
DO – Where possible, recycle your batteries where communities offer recycling or collection programs. You can contact your local government for information about the disposal options in your area.
*January 2018 Duracell Claim Study
**Should your device be damaged due to a battery defect, when used as directed, we will repair or replace your device. See Duracell.com/guarantee for details.
WALMART.COM SM is a service mark of Wal-Mart.com USA, LLC and Wal-Mart Stores, Inc.
Search from sale information
Sale information at April 25, 2019, 1 am
Share Price-Funnel.com
"Price-Funnel.com" aspires to be a more user-friendly site. It would mean a lot to us if you can share our site from the share button below.
Could you please take some time to answer our site-improvement questionnaire?
"Price-Funnel.com" aspires to be a more user-friendly site. We would appreciate it if you can take the time to answer our questionnaire annonymously, as we value the input of our users.