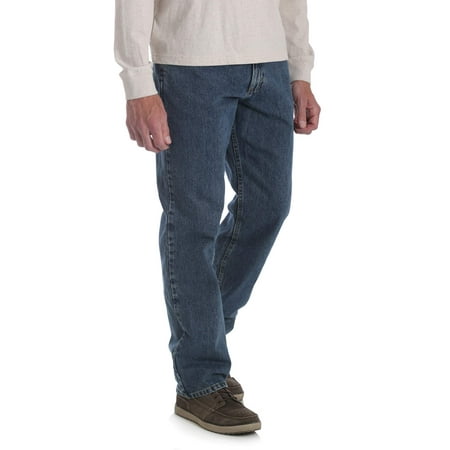 Wrangler Men's Relaxed Fit Jeans
Information regarding the items are compared based on input acquired from article numbers and item keywords. Once you jump to the external online retail site, the actual item and conditions may be different. Once you jump to the external online retail site, please make sure to confirm the item and conditions. Please note that items that do not come up in the search results may be lower in price, and the list price may fluctuate.
Detailed information
Product description
The Wrangler Men's Relaxed Fit Jeans are a smart addition to a man's wardrobe. They feature a classic design that's good for work or casual occasions. They come in many different colors so you can pick the one's that best suit your sense of style. Pair these with a tee or button down top and boots. These Wrangler men's jeans are made of a blend of cotton and polyester that makes them soft, strong and breathable for comfort. Care and cleaning is as easy as tossing them in the washing machine. The zipper and button closure make them easy to take off and put on. There are five pockets for holding your keys, wallet, phone and other essentials. You can wear a belt to keep them up and tie your outfit together.

Wrangler Men's Relaxed Fit Jeans:
Cotton and polyester blend
Machine wash cold
Wrangler men's jeans go well with T-shirts or button downs
Relaxed fit jeans
5 pockets
Wrangler relaxed fit jeans have belt loops
Button closure with zipper fly
Available in assorted colors: Black, Bronze Stone, Indigo, Medium Wash, Midnight Rinse, Stone Bleach, Stone Bleach 2, Tarmac, Vintage Wash and Vintage Wash 2
Available in sizes 28"-46" and lengths 29"-38"
Style 97601VR
WALMART.COM SM is a service mark of Wal-Mart.com USA, LLC and Wal-Mart Stores, Inc.
Search from sale information
Sale information at January 22, 2019, 7 pm
Share Price-Funnel.com
"Price-Funnel.com" aspires to be a more user-friendly site. It would mean a lot to us if you can share our site from the share button below.
Could you please take some time to answer our site-improvement questionnaire?
"Price-Funnel.com" aspires to be a more user-friendly site. We would appreciate it if you can take the time to answer our questionnaire annonymously, as we value the input of our users.