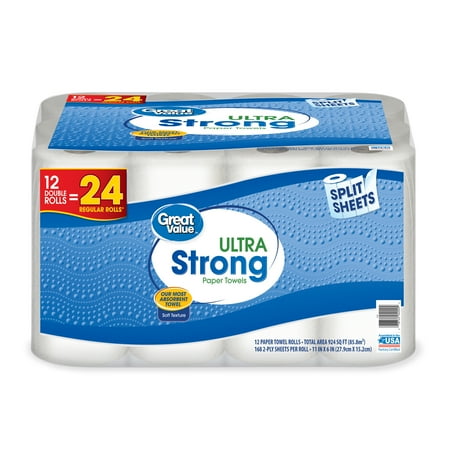 Great Value Paper Towels, Split Sheets, 12 Double Rolls
Information regarding the items are compared based on input acquired from article numbers and item keywords. Once you jump to the external online retail site, the actual item and conditions may be different. Once you jump to the external online retail site, please make sure to confirm the item and conditions. Please note that items that do not come up in the search results may be lower in price, and the list price may fluctuate.
Detailed information
Product description
Great Value Ultra Strong Paper Towels are 2-Ply sheets that are super strong and absorbent making them the perfect solution for your home. These paper towels have the perfect combination of strength and softness that you have been looking for with their supreme strength they provide effective washcloth-like cleaning while being gentle on your skin. Great Value Ultra Strong Paper Towel is available in double rolls, so you won't have to change the roll as often. Each long lasting roll has a stylish emboss that will add to the beauty of any kitchen. The rolls come in smartly sized bundles that are easy and convenient to store in home or in workplaces. Available in Ultra Soft and Ultra Strong, Great Value Paper Towel is the best choice for your family.Great Value products provide families with affordable, high quality grocery and household consumable options. With our wide range of product categories spanning grocery and household consumables, we offer you a variety of products for your family's needs. Our products are conveniently available online and in Walmart stores nationwide, allowing you to stock up and save money at the same time.
Great Value Ultra Strong Paper Towels, Strong & Absorbent, 12 Double Rolls:12 double rolls, 168 2-Ply sheets per rollEach roll is 11 inches X 6 inchesSoft texture12 double rolls= 24 regular rolls
WALMART.COM SM is a service mark of Wal-Mart.com USA, LLC and Wal-Mart Stores, Inc.
Search from sale information
Sale information at December 11, 2018, 11 am
Share Price-Funnel.com
"Price-Funnel.com" aspires to be a more user-friendly site. It would mean a lot to us if you can share our site from the share button below.
Could you please take some time to answer our site-improvement questionnaire?
"Price-Funnel.com" aspires to be a more user-friendly site. We would appreciate it if you can take the time to answer our questionnaire annonymously, as we value the input of our users.