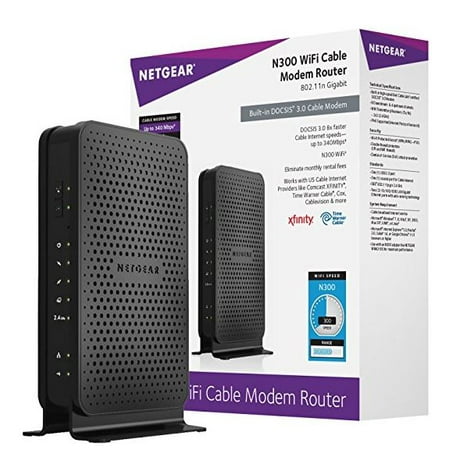 NETGEAR N300 (8x4) WiFi Cable Modem Router Combo C3000, DOCSIS 3.0 | Certified for Xfinity by Comcast, Spectrum, COX & more (C3000)
Information regarding the items are compared based on input acquired from article numbers and item keywords. Once you jump to the external online retail site, the actual item and conditions may be different. Once you jump to the external online retail site, please make sure to confirm the item and conditions. Please note that items that do not come up in the search results may be lower in price, and the list price may fluctuate.
Detailed information
Product description
The NETGEAR N300 WiFi Cable Modem Router delivers the ultimate in performance for home and small business networking. This gateway offers both wired and wireless connections for blazing fast data transfers, VoIP, Real Time HD media streaming, gaming and maximum Internet bandwidth. Along with four Gigabit Ethernet ports enabling maximum wired speeds, this full-featured high performance gateway is an ideal solution for the connected home or small business with multiple computers and network-enabled devices running multiple applications at the same time.
Compatible with Xfinity from Comcast, Spectrum, Cox, CableONE & more. This 2-in-1 WiFi router and DOCSIS 3.0 cable modem unleashes 8x faster download speeds up to 340 Mbps faster, smoother WiFi and works with all major cable Internet providers; Three-in-one DOCSIS 3.0 Cable Modem + N300 WiFi Router+ 2 Gigabit Wired Switch.Not compatible with Cable bundled voice services; ELIMINTE MONTHLY CABLE MODEM RENTAL FEES - Up to $120 per year,Number of Ethernet Ports: Two (2) 10/100/1000 LAN Gigabit Ethernet ports with auto-sensing technology,Number of USB Ports:One (1) USB 2.0 port; DOCSIS 3.0 unleashes 8x faster download speeds than DOCSIS 2.0/ Approved for plans up to 100 Mbps.Security:Denial-of-Service (DoS) attack prevention; NETGEASR Genie App +Content filtering Parental Controls allow you to easily manage your network from your Mobile device
WALMART.COM SM is a service mark of Wal-Mart.com USA, LLC and Wal-Mart Stores, Inc.
Search from sale information
Sale information at March 25, 2019, 8 pm
Share Price-Funnel.com
"Price-Funnel.com" aspires to be a more user-friendly site. It would mean a lot to us if you can share our site from the share button below.
Could you please take some time to answer our site-improvement questionnaire?
"Price-Funnel.com" aspires to be a more user-friendly site. We would appreciate it if you can take the time to answer our questionnaire annonymously, as we value the input of our users.