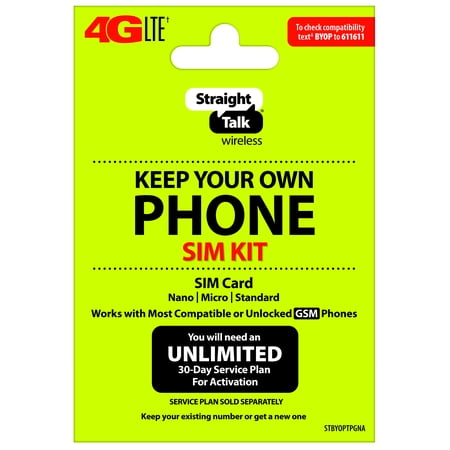 Straight Talk Keep Your Own Phone SIM Card Kit - T-Mobile GSM Compatible Devices
Information regarding the items are compared based on input acquired from article numbers and item keywords. Once you jump to the external online retail site, the actual item and conditions may be different. Once you jump to the external online retail site, please make sure to confirm the item and conditions. Please note that items that do not come up in the search results may be lower in price, and the list price may fluctuate.
Detailed information
Product description
Straight Talk Keep Your Own Phone SIM Kits are compatible with most T-Mobile or unlocked GSM phonesGet a Straight Talk unlimited prepaid phone plan on your current phone with no contractSIM Card Kit fits Nano, Micro, and Standard SIM card slotsActivated with Unlimited DataOnce you have this Straight Talk SIM card in your phone, all you need is a Straight Talk plan! Click here to explore our prepaid phone plans including the Ultimate Unlimited plan with all the 4G LTE data you need. With no contract, prepaid phone plans, you can choose the right Straight Talk plan for you every month or enroll in Auto-Refill to have service renewed automatically. Buy this SIM Card Kit and the Straight Talk plan together to get talking, texting, and streaming right away.3-in-1 SIM Card Kit to Fit Any PhoneThe SIM Card in this KYOP kit fits Nano, Micro, and Standard SIM card slots. That means it works with most T-Mobile or unlocked GSM phones!Here's how to install your new SIM card and activate your Straight Talk Plan:Determine the SIM Card size your smart phone uses. Then find the SIM trio card inside the packaging and punch out the precut shapes to make it the size you need.Take off the battery cover or open the SIM card tray on the top or side of your phone. Line up the notch on your new SIM Card with the one in your phones SIM card tray, or according to the diagram under the battery cover.Replace the battery cover or SIM Card tray and activate your Straight Talk plan. It's as easy as that!Watch the video on this page for a visual guide!4G LTE Speed on Nationwide Networks with Straight TalkYou don't need an expensive long-term contract to get great cell phone service. Straight Talk uses the largest, most dependable networks for reliable service nationwide without an expensive contract. Pair this SIM Card with an unlimited Straight Talk plan to talk, text, stream, and download your favorite apps and games. Get the speed and quality you deserve with the phone you already have!Keep Your Number, Kick Your Carrier!With Straight Talk KYOP, you can get in on our prepaid phone plans without starting over with a new phone number. If you do want a new phone number when you switch to a Straight Talk plan, you can do that, too! Our monthly prepaid phone plans put you in control of your cell phone service. Free your phone with Straight Talk!Prepaid Phone Plans for T-Mobile or Unlocked GSM DevicesMost unlocked T-Mobile devices and any unlocked GSM device can use this SIM card kit. GSM, short for Global System for Mobiles, is a radio system used by many major phone companies including T-Mobile. This Straight Talk SIM card connects to GSM networks to take full advantage of the coverage your device was meant to have. We also have KYOP SIM card kits compatible with AT&T and Verizon/CDMA devices!Straight Talk gives you high-speed data and cell phone service with no complex, expensive contracts. With KYOP, you can keep enjoying the phone you love with an awesome, no contract carrier!Simplify your smart phone experience and get everything for less with Straight Talk. To check if your phone is compatible with Straight Talk's HYOP program, text BYOP to 611611.*By texting keywords to 611611 you are consenting to receive response messages
WALMART.COM SM is a service mark of Wal-Mart.com USA, LLC and Wal-Mart Stores, Inc.
Search from sale information
Sale information at January 17, 2019, 11 am
Share Price-Funnel.com
"Price-Funnel.com" aspires to be a more user-friendly site. It would mean a lot to us if you can share our site from the share button below.
Could you please take some time to answer our site-improvement questionnaire?
"Price-Funnel.com" aspires to be a more user-friendly site. We would appreciate it if you can take the time to answer our questionnaire annonymously, as we value the input of our users.