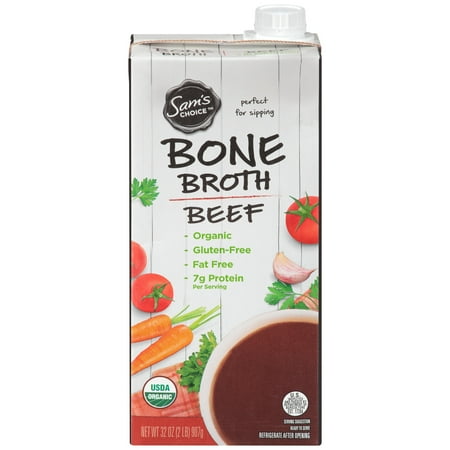 (6 Pack) Sam's Choice Organic Bone Broth, Beef, 32 oz
Information regarding the items are compared based on input acquired from article numbers and item keywords. Once you jump to the external online retail site, the actual item and conditions may be different. Once you jump to the external online retail site, please make sure to confirm the item and conditions. Please note that items that do not come up in the search results may be lower in price, and the list price may fluctuate.
Detailed information
Product description
Eight 32 oz Sams Choice Organic Beef Bone Broth, $0.08 per ounce Every bowl of our organic bone broth is a bowlful of soothing, sipping goodness - so full in flavor that you can enjoy it on its own or add it to your favorite recipe. So sit back, relax, and savor every sip! Have it as a tasty and healthy alternative to tea or coffee in the evenings or use it to add rich flavor and depth to your favorite soups and stews. It can also be used to boil rice, pasta or potato to enhance their flavor.It is USDA-certified Organic, gluten-free, fat-free and has 7g protein per serving that makes it a healthy addition to your everyday routine. With Sams Choice Organic Chicken Broth, you get all the healthy benefits and taste of homemade chicken broth without the time and effort. Named after our iconic founder, Walmarts Sams Choice brand provides families with premium, high quality food and grocery options with the best value. Our authentic products are inspired by our proud heritage and are trusted today by the millions of customers using them across the nation.Stovetop:Empty contents of container into a saucepan. Heat, stirring occasionally. Do not boil.CAUTIONProduct and container will be hot. Use potholders to avoid burns. Refrigerate after opening.Microwave:Empty contents of container into a microwave-safe bowl. Cover. Microwave on high for about 3 minutes, or until hot. Let stand in microwave for one minute, then stir.DO NOT MICROWAVE IN CARTON.

Sam's Choice Beef Bone Broth:
Ready to serve
The gluten-free broth is ideal for sipping
7g protein per serving
No artificial flavors
No synthetic colors
Tetra Pak protects what's good
Organic broth
Ideal for a variety of dishes
WALMART.COM SM is a service mark of Wal-Mart.com USA, LLC and Wal-Mart Stores, Inc.
Search from sale information
Sale information at April 23, 2019, 9 pm
Share Price-Funnel.com
"Price-Funnel.com" aspires to be a more user-friendly site. It would mean a lot to us if you can share our site from the share button below.
Could you please take some time to answer our site-improvement questionnaire?
"Price-Funnel.com" aspires to be a more user-friendly site. We would appreciate it if you can take the time to answer our questionnaire annonymously, as we value the input of our users.