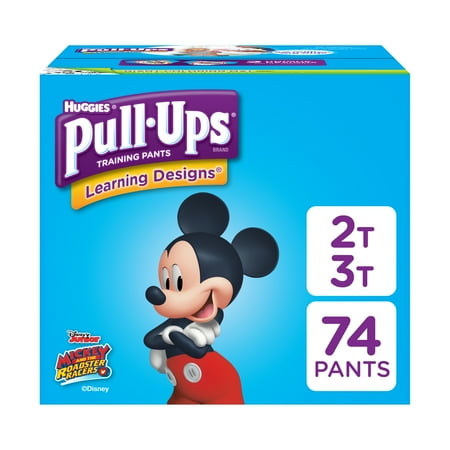 Pull-Ups Boys' Learning Designs Training Pants, Size 2T-3T, 74 Count
Information regarding the items are compared based on input acquired from article numbers and item keywords. Once you jump to the external online retail site, the actual item and conditions may be different. Once you jump to the external online retail site, please make sure to confirm the item and conditions. Please note that items that do not come up in the search results may be lower in price, and the list price may fluctuate.
Detailed information
Product description
"The #1 training pant brand*, Pull-Ups help make potty training easier vs. using diapers – we've helped train 50 million Big Kids and counting! Pull-Ups Training Pants for boys give your child trusted day and night leak protection, with added absorbency where he needs it most and easy-open sides for quick changes. Each pack of Pull-Ups for boys includes two designs your child will love – Disney's Lightning McQueen and Mickey Mouse – with graphics that fade when wet to help him learn. Pull-Ups disposable training diapers provide all-around coverage with soft, stretchy sides for a great fit, and an underwear-like design that lets your child slide them on and off easily. When your child is ready to begin his potty training journey, the Pull-Ups brand can help. Visit Pull-Ups.com for expert articles, tips and resources. Pull-Ups Potty Training Pants are available in sizes 2T-3T (18-34 lb.), 3T-4T (32-40 lb.) and 4T-5T (38-50 lb.). *Based on Nielsen market share for L52W ending 4/22/17"




Day & Night disposable training pants with leak protection you can trust

Boys training pants that fit like cotton underwear - helps teach toddlers the concept of easy up and down in a pull up diaper

HUGGIES Pull-Ups exclusive Disney graphics with Lightening McQueen from Cars & Mickey Mouse that fade when wet. Includes bonus activities for your toddler
Diaper pants with easy open sides can be refastened for an adjustable fit, quick check and easy changes

WALMART.COM SM is a service mark of Wal-Mart.com USA, LLC and Wal-Mart Stores, Inc.
Search from sale information
Sale information at March 25, 2019, 7 pm
Share Price-Funnel.com
"Price-Funnel.com" aspires to be a more user-friendly site. It would mean a lot to us if you can share our site from the share button below.
Could you please take some time to answer our site-improvement questionnaire?
"Price-Funnel.com" aspires to be a more user-friendly site. We would appreciate it if you can take the time to answer our questionnaire annonymously, as we value the input of our users.