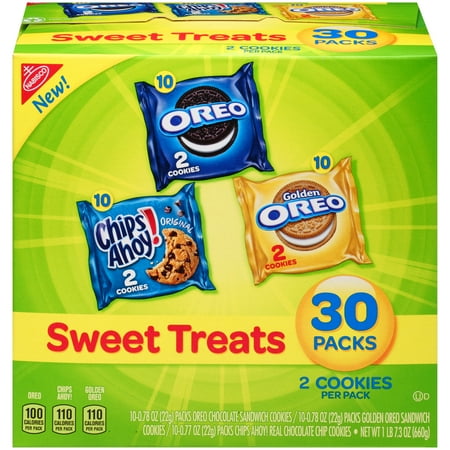 Nabisco Oreo, Chips Ahoy!, & Golden Oreo Sweet Treats Variety Cookie Pack, 23.3 Oz., 30 Count
Information regarding the items are compared based on input acquired from article numbers and item keywords. Once you jump to the external online retail site, the actual item and conditions may be different. Once you jump to the external online retail site, please make sure to confirm the item and conditions. Please note that items that do not come up in the search results may be lower in price, and the list price may fluctuate.
Detailed information
Product description
These Nabisco Sweet Treats Cookies are ideal for enjoying at home, school, the office or while on the go. They contain no trans fat or cholesterol. Each pack of these Nabisco cookies, 30-count, comes with Oreo chocolate sandwich cookies, golden Oreo sandwich cookies and Chips Ahoy! real chocolate chip cookies.
Make your next party or gathering a hit with the Nabisco Sweet Treats Cookies Variety Pack.This variety pack includes a mix of Classic Oreo, Golden Oreo and Chips Ahoy! with 2 cookies per pack!Each individually sealed pack locks in freshness and is perfectly portioned for gatherings, lunchboxes, road trips, and more.The snack-size packs provide on-the-go convenience.This includes 30 single pack of Oreo, Golden Oreo and Chips Ahoy!Highlights:A delicious mix of your favorite cookiesClassic Oreos, Golden Oreos, & Chips Ahoy!Kosher Dairy30 packs with 2 cookies eachIndividual snack bagsOur mission at Mondelez International is to create more moments of joy and build the best snacking company in the world by growing our people, growing our business and growing our impact on the world around us.
WALMART.COM SM is a service mark of Wal-Mart.com USA, LLC and Wal-Mart Stores, Inc.
Search from sale information
Sale information at February 21, 2019, 12 pm
Share Price-Funnel.com
"Price-Funnel.com" aspires to be a more user-friendly site. It would mean a lot to us if you can share our site from the share button below.
Could you please take some time to answer our site-improvement questionnaire?
"Price-Funnel.com" aspires to be a more user-friendly site. We would appreciate it if you can take the time to answer our questionnaire annonymously, as we value the input of our users.