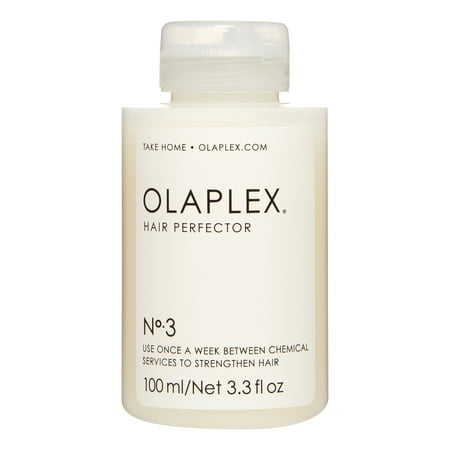 Olaplex Hair Perfector No.3, 3.3 Oz
Information regarding the items are compared based on input acquired from article numbers and item keywords. Once you jump to the external online retail site, the actual item and conditions may be different. Once you jump to the external online retail site, please make sure to confirm the item and conditions. Please note that items that do not come up in the search results may be lower in price, and the list price may fluctuate.
Detailed information
Product description
Olaplex Hair Perfector No. 3 is a revolutionary treatment that allows you to lighten your hair to levels never thought possible before, without compromising the integrity of the hair. Created out of a demand for clients wanting to take a little OLAPLEX home with them, this product is used once a week to boost and strengthen hair. Due to bonds being continuously broken within the hair through thermal styling, mechanical styling or continued color/perm/relaxer services, the integrity, strength, shine and softness will dissipate in a few weeks to a month dependent on how the hair is treated. Olaplex No. 3 Hair Perfector will maintain strength, structure, integrity, softness and shine leading up to the clients next service at the salon. How to Use: Apply a generous amount to wet towel-dried hair and leave on for a minimum of 10 minutes, then rinse, shampoo and condition. This is NOT a conditioning treatment to be left on the hair and should be shampooed out of hair at the end. The longer it is left on, the more effective it is, 10 minutes is recommended and may be left on for longer periods of time for even better results. This may be used more than once a week if necessary.
Olaplex Hair Perfector No.3 by Olaplex for Unisex - 3.3 oz Perfector
WALMART.COM SM is a service mark of Wal-Mart.com USA, LLC and Wal-Mart Stores, Inc.
Search from sale information
Sale information at September 24, 2018, 10 am
Share Price-Funnel.com
"Price-Funnel.com" aspires to be a more user-friendly site. It would mean a lot to us if you can share our site from the share button below.
Could you please take some time to answer our site-improvement questionnaire?
"Price-Funnel.com" aspires to be a more user-friendly site. We would appreciate it if you can take the time to answer our questionnaire annonymously, as we value the input of our users.