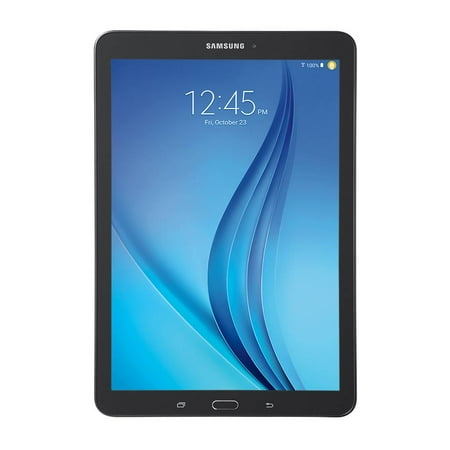 SAMSUNG Galaxy Tab E 9.6" 16GB Tablet - SM-T560NZKZXAR
Information regarding the items are compared based on input acquired from article numbers and item keywords. Once you jump to the external online retail site, the actual item and conditions may be different. Once you jump to the external online retail site, please make sure to confirm the item and conditions. Please note that items that do not come up in the search results may be lower in price, and the list price may fluctuate.
Detailed information
Product description
Purchase a Samsung Galaxy Tab E 9.6" between 11/21/18 and 12/31/18 and get $25 in Google Play credit. Watch and play your favorites. Portable entertainment for everyone The Galaxy Tab E was made to go wherever you go and do whatever you want to do. From watching a movie with the family at home to reading a best seller at the coffee shop, the big, bright screen keeps everyone entertained. Keep it all with you Enjoy more of your favorite music, photos, movies and games on the go with a microSD™ card* that expands your tablet's memory from 16GB** to up to an additional 400GB. Capture more every day Make shareable moments better with the Galaxy Tab E's advanced camera features. Catch more in each photo with Panorama and Continuous Shot modes. Video chat from anywhere. And quickly toggle between camera and video modes. With the Galaxy Tab E, you won't miss a thing. Safe. Fun. Kid-Friendly. Kids Mode, available for free from Samsung Galaxy Essentials, gives parents peace of mind while providing a colorful, engaging place for kids to play. Easily manage what your kids access and how long they spend using it, all while keeping your own documents private. Premium content all in one place Customize your Galaxy Tab E with the apps you use most. The Samsung Galaxy Essentials widget provides a collection of premium, complimentary apps optimized for your tablet screen. Select and download the apps you want to upgrade your tablet experience. More reasons to love your tablet Get the most out of your Galaxy Tab E with the Samsung+ app. Along with one-touch access to customer support, you'll discover device tips, a library of resources and more. Plus you'll have access to great music and exclusive content. Samsung+ makes life with a tablet even better.







Quad-Core (1.2GHz), Qualcomm APQ 8016

resolution (front): 2MP

resolution (back): 5MP

digital optical zoom: 4X

video recording resolution: HD 1280x720

internal memory: 1.5GB RAM, 16GB ROM

external memory: up to 128GB microSD

battery type: Li-Ion 7,300 mAh

music play time: up to 198 hrs

video play time: up to 12 hrs

Internet play time: up to 12 hrs

Energy star certified: yes

wifi: Wi-Fi 802.11 a/b/g/n

bluetooth: Bluetooth v4.1

earjack: 3.5mm stereo

main display resolution: 1280 x 800 pixels

main display size: 9.6
WALMART.COM SM is a service mark of Wal-Mart.com USA, LLC and Wal-Mart Stores, Inc.
Search from sale information
Sale information at April 23, 2019, 8 pm
Share Price-Funnel.com
"Price-Funnel.com" aspires to be a more user-friendly site. It would mean a lot to us if you can share our site from the share button below.
Could you please take some time to answer our site-improvement questionnaire?
"Price-Funnel.com" aspires to be a more user-friendly site. We would appreciate it if you can take the time to answer our questionnaire annonymously, as we value the input of our users.