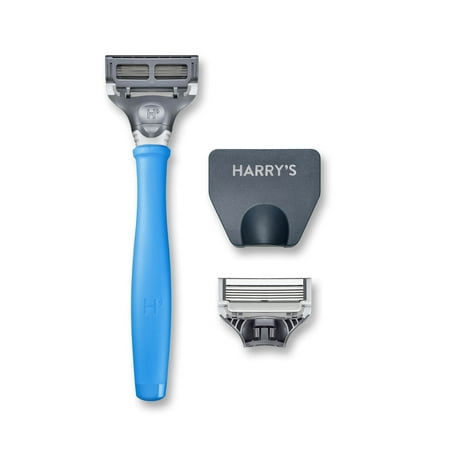 Harry's Men's Razor with 2ct Blade Cartridges - Surf Blue (Exclusive)
Information regarding the items are compared based on input acquired from article numbers and item keywords. Once you jump to the external online retail site, the actual item and conditions may be different. Once you jump to the external online retail site, please make sure to confirm the item and conditions. Please note that items that do not come up in the search results may be lower in price, and the list price may fluctuate.
Detailed information
Product description
Harry's Surf Blue Razor (exclusive to Walmart) 2ct blade refills includes everything you need for a close, comfortable shave: sharp, durable blades, a flex hinge, a lubricating strip, and a precision trimmer for your sideburns and hard-to-reach places like under your nose. Our handle is designed with a rubberized matte exterior, texturized grip pattern, and weighted core for maximum grip and control. It may be the best-looking thing in your bathroom (other than you).

2 German-engineered blade cartridges, each with a flex hinge and lubricating strip.

The rubber flex hinge has a balance of elasticity and resistance to help glide more comfortably over the contours of your face.

A rubberized handle with a textured pattern provides optimal control, even when wet.

Made with a weighted core and ergonomic shape that is designed to feel good in your hand, like a new fountain pen.

Travel cover to protect your blades when you're on the move.

Available in four bold colors: Bright Orange, Navy Blue, Forest Green, and Surf Blue.

WALMART.COM SM is a service mark of Wal-Mart.com USA, LLC and Wal-Mart Stores, Inc.
Search from sale information
Sale information at March 22, 2019, 9 pm
Share Price-Funnel.com
"Price-Funnel.com" aspires to be a more user-friendly site. It would mean a lot to us if you can share our site from the share button below.
Could you please take some time to answer our site-improvement questionnaire?
"Price-Funnel.com" aspires to be a more user-friendly site. We would appreciate it if you can take the time to answer our questionnaire annonymously, as we value the input of our users.