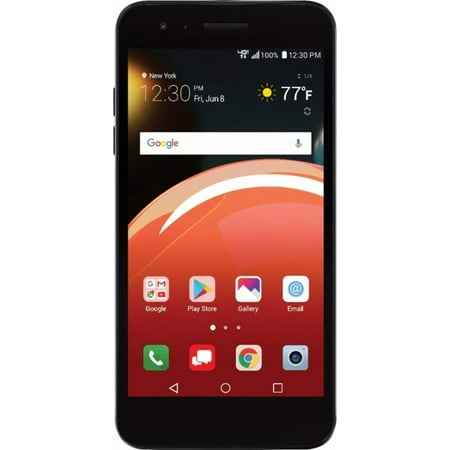 Verizon Wireless LG Optimus Zone 4 16GB Prepaid Smartphone, Moroccan Blue
Information regarding the items are compared based on input acquired from article numbers and item keywords. Once you jump to the external online retail site, the actual item and conditions may be different. Once you jump to the external online retail site, please make sure to confirm the item and conditions. Please note that items that do not come up in the search results may be lower in price, and the list price may fluctuate.
Detailed information
Product description
Get premium features at an exceptional value with the slim and stylish LG ZONE 4. Enjoy a rich cinematic experience on a vivid 5-inch HD display, capture treasured moments using an 8 MP rear camera, simplify your smartphone experience with the optional EasyHome interface and take advantage of the convenience and reliability of Wi-Fi calling and HD voice. With a long-lasting removable battery and 16 GB of built-in storage,* the LG ZONE 4 is easy to use but hard to put down. Verizon's flexible prepaid plans give you the freedom to pay for what you want, when you want it. Freedom from annual contracts, activation fees and credit checks. Verizon is your destination for the hottest phones like the LG ZONE 4, all on the nation's most reliable 4G LTE network.
LG ZONE® 4 is an entry smartphone that delivers many premium features without the premium price tag. It's all packed in a sleek and stylish Moroccan Blue design with all the features, processing power, space and speed you need to live life to the fullest.
WALMART.COM SM is a service mark of Wal-Mart.com USA, LLC and Wal-Mart Stores, Inc.
Search from sale information
Sale information at March 25, 2019, 7 pm
Share Price-Funnel.com
"Price-Funnel.com" aspires to be a more user-friendly site. It would mean a lot to us if you can share our site from the share button below.
Could you please take some time to answer our site-improvement questionnaire?
"Price-Funnel.com" aspires to be a more user-friendly site. We would appreciate it if you can take the time to answer our questionnaire annonymously, as we value the input of our users.