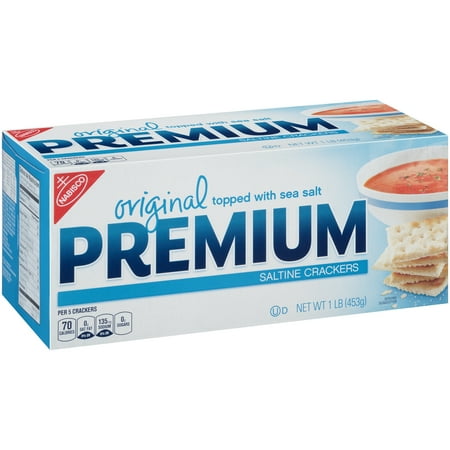 (2 Pack) Nabisco Premium Saltine Crackers, Original, 16 Oz
Information regarding the items are compared based on input acquired from article numbers and item keywords. Once you jump to the external online retail site, the actual item and conditions may be different. Once you jump to the external online retail site, please make sure to confirm the item and conditions. Please note that items that do not come up in the search results may be lower in price, and the list price may fluctuate.
Detailed information
Product description
Original Nabisco Premium Saltine Crackers are the ideal companion to a hearty bowl of soup or chowder. This traditional comfort food is topped with sea salt and packed with yummy flavor and an irresistible crunch. Enjoy them as-is with a meal or serve them with peanut butter and a glass of milk for a wholesome snack. These salted square crackers also taste delicious one by one, right out of the package. They are available in a 16-oz box and do not contain any cholesterol or trans fat. Theyre available in an original flavor and topped with just a sprinkling of sea salt. These Nabisco crackers are suitable for individuals who follow a kosher diet. Use them to create a variety of tasty appetizers with dips and spreads. Try other varieties of crackers from Nabisco, including mini saltines, unsalted tops, wheat snacks and cheddar baked snacks that taste delicious with slices of cheese.
Nabisco Premium Saltine Crackers contain only 70 calories per serving and can be enjoyed alongside all of your family's favorite dishes.

Nabisco Original Premium Saltine Crackers:
Topped with sea salt
Kosher dairy
Crisp, square-shaped crackers
16-oz box of Nabisco saltine crackers with original flavor
Square crackers contain no cholesterol
No trans fat
Ideal for lunch and snacks
Only 70 calories per serving
Contains no sugar
Premium saltine crackers
Enjoy alone or with cheese or peanut butter
135mg of sodium per serving
Pairs well with soup and chili
WALMART.COM SM is a service mark of Wal-Mart.com USA, LLC and Wal-Mart Stores, Inc.
Search from sale information
Sale information at April 23, 2019, 8 pm
Share Price-Funnel.com
"Price-Funnel.com" aspires to be a more user-friendly site. It would mean a lot to us if you can share our site from the share button below.
Could you please take some time to answer our site-improvement questionnaire?
"Price-Funnel.com" aspires to be a more user-friendly site. We would appreciate it if you can take the time to answer our questionnaire annonymously, as we value the input of our users.